Thailand: Python Emerges From Toilet and Bites Man's Penis
A Thai man is recovering in hospital after a 3m (10ft) python emerged from a squat toilet and sank its teeth into his penis.
Attaporn Boonmakchuay said the python was "yanking very hard" as he and his wife tried to wrestle it off.
Doctors said Mr Attaporn, who lost a lot of blood in the ordeal, was making a good recovery.
Workers dismantled the toilet and extracted the python which had slithered through domestic plumbing.
It was released back into the wild.
The incident happened as Mr Attaporn, 38, went to the toilet at his home in Chachoengsao province, east of Bangkok, before leaving for work on Wednesday.
As he used the toilet he said he suddenly felt a sharp pain.
"I felt as though my penis had been severed. The snake was yanking very hard," he said, according to the Bangkok Post.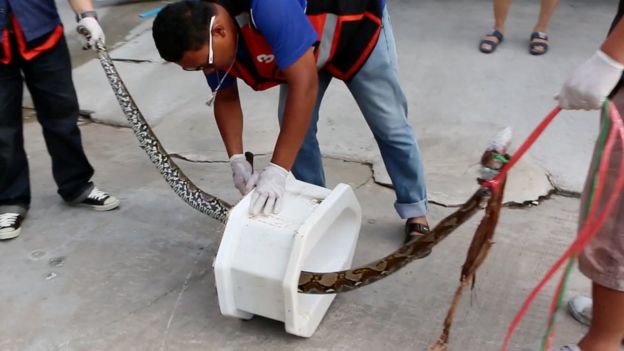 As the python tried to pull him down, he called for his wife and neighbours to help him, the post reported.
Mr Attaporn told Thai TV that his wife tied a rope around the snake and he pried its jaws open before passing out.
Thai media published images of Mr Attaporn's blood-spattered toilet.
Doctors said Mr Attaporn was recovering well.
"He has a really good attitude… even though his own wife and children were in shock. He's been smiling and giving interviews all day from his bed," said Chularat Hospital director Dr Chutima Pincharoen.
Mr Attaporn said he planned to replace the squat toilet with a sitting one.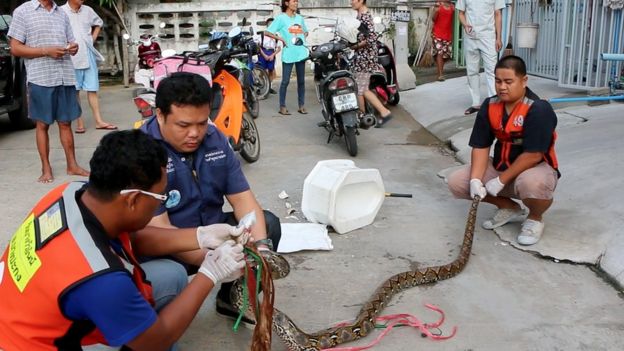 Ricardo Rossello Will Stay as Puerto Rico Governor But Won't Seek Re-Election
Rossello also promises to step down as leader of his party in the wake of hundreds of pages of embarrassing private chats.
Puerto Rico's scandal-scarred governor, Ricardo Rossello, said Sunday that he won't resign but that he will step down as head of his party and won't seek re-election in 2020.
"Saying sorry is not the only thing I can do," Rosselló said in a live address, saying he knew "I have to work" to regain islanders' trust.
Tens of thousands of Puerto Ricans have taken to the streets demanding that Rosselló resign after corruption investigations and 889 pages of private chats between him and some of his officials and close associates were leaked.
The leaked chats included profanity-laced, misogynistic and homophobic comments, as well as barbed and cynical remarks about a variety of topics, including the deaths following Hurricane Maria in 2017.
READ MORE: 'Only Survivor' Reveals Truth of Fatal Accident in 1994 Linked to Ricardo Rossello
Rosselló has said the messages were private remarks made to blow off steam after long days. But top island officials, including members of his own party, have been highly critical and gave the governor a deadline to "reflect" and prove that he should stay in office.
19 People Dead After Drinking Tainted Alcohol in Costa Rica
At least 19 people have died across Costa Rica after they consumed tainted alcohol, the country's Ministry of Health said in a national alert.
Fourteen men and five women between the ages of 32 and 72 died in several places across the Central American nation since the beginning of June, the agency warned.
So far, some 30,000 bottles of potentially tainted alcohol were confiscated by authorities, which affected several brands.
The ministry called on people not to consume or buy "Guaro Gran Apache," "Red Star Brandy," "Guaro Montano," "Red Baron Brandy," "Timbuka Brandy," or "Molotov Brandy," according to a translation.
"It is suspected that in the national market, counterfeit products of these brands [are circulating]," the agency said.
The agency added that samples from the alcohol tested positive for methanol, CNN reported.
Methanol can make people feel intoxicated, but it can also cause poisoning, says Medicine Plus. The chemical is found in antifreeze, paint thinner, varnish, canned heating sources, copy machine fluids, windshield wiper fluid, and other products.
Methanol poisoning symptoms include blurred vision, blindness, breathing difficulties or "no breathing," low blood pressure, confusion, dizziness, seizures, coma, bloody vomiting, and other adverse symptoms, the website says.
"Methanol is extremely poisonous. As little as 2 tablespoons (30 milliliters) can be deadly to a child. About 2 to 8 ounces (60 to 240 milliliters) can be deadly for an adult. Blindness is common and often permanent despite medical care. Intake of methanol affects multiple organs. Organ damage may be permanent. How well the person does depends on how much poison is swallowed and how soon treatment is received," the site says.
The U.N. World Health Organization says that there have been a number of methanol poisoning outbreaks around the world in recent yeas.
One reason, the organization says, is that "unregulated alcoholic drinks are generally very cheap and are therefore attractive to people with low incomes, particularly those who are alcohol dependent. Tourists may also be at risk, especially in holiday settings where high alcohol consumption is encouraged."
"Close the Camps!": Protesters March Lawton Streets in Opposition of Migrant Children at Fort Sill
Hundreds of protesters took to the streets to show their opposition of migrant children being housed on Fort Sill, hoping this protest would bring change.
"There's a national movement right now growing to close the camps," said Sheridan Aguirre, field communications manager for United We Dream. "We believe that we need to rise up and match the moment."
Aguirre said seeing asylum seekers hits close to home.
"I'm undocumented," said Aguirre. "My mom and I came here to the United States when I was a year old, and so for me, I see my family in the asylum seekers who are trying to enter this country today and be part of this country that I've grown up in."
The protesters come from different cultures and backgrounds, but they are standing in solidarity to help migrant children.
"I put my life on the line to protect children," said Nathan Aaron Hudson, member of About Face, Veterans Against the War. "Three combat tours in Afghanistan. I'll be damned if I stand here in my own country, while we let our neighbors go into concentration camps."
Protesters are blocking the entrance to Fort Sill.

Japanese Americans were detained here in WW2.

Now ICE wants to hold immigrants here.#CloseTheCamps

— Joshua Potash (@JoshuaPotash) July 20, 2019
Hudson, and fellow members of About Face, Veterans Against the War, are saying no to unlawful orders.
"Well, we served in the military and we served in the endless wars of Iraq and Afghanistan," said Shawna Foster, board chair at About Face, Veterans Against the War.
"We were following orders there that we thought were for the greater good, but now it's been more than 15 years and we realize it hasn't been for the greater good. We're here to stop this pattern from repeating at the Fort Sill military installation to open up a child concentration camp and turn military personnel into concentration camp guards."
Close the Camps! Lawton/Fort Sill, Oklahoma pic.twitter.com/ZvKDOvBLFe

— Mark Davies (@markyadavies) July 20, 2019
Aguirre said the protesters just want fair treatment for those seeking asylum.
"I think that people should know that every single person should be treated with dignity, no matter where they're from," said Aguirre.