Photographer Dave Sandford Captures Powerful Waves on Lake Erie as Liquid Mountains
Dave Sandford is a professional sports photographer of 18 years whose hometown is London, Ontario, Canada.
Over the past 4 weeks, for 2 to 3 days per week, Sandford has been driving 45 minutes to Lake Erie, spending up to 6 hours a day photographing the lake.
The photos are awe-inspiring: Sandford gets in the water and shoots the powerful choppy waves in a way that makes them look like epic mountain peaks that are exploding into the atmosphere.


Sandford focuses on Erie in the last few months of the year when the Great Lakes often act more like oceans than lakes: the arrival of cold, windy weather comes with violent waves — Erie has caused thousands of shipwrecks over the past centuries.
All of the photos seen here were captured with a Canon 1D X, a 400mm lens, and a 70-200mm lens, housed inside an Aquatech sports housing. The conditions are fierce: wind gusts reach 60+ mph, the average water temperature is about 52° F, and waves can reach a staggering 25 feet in height.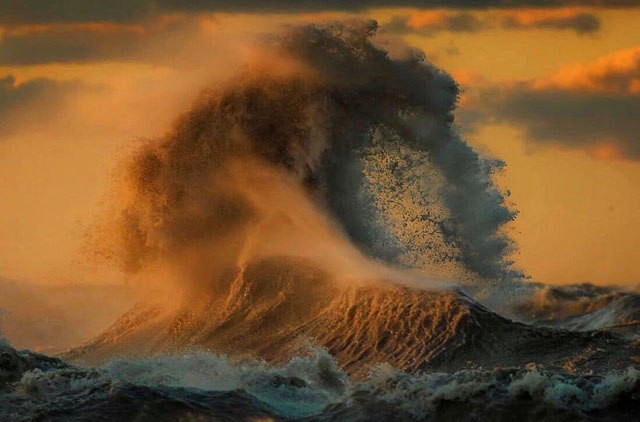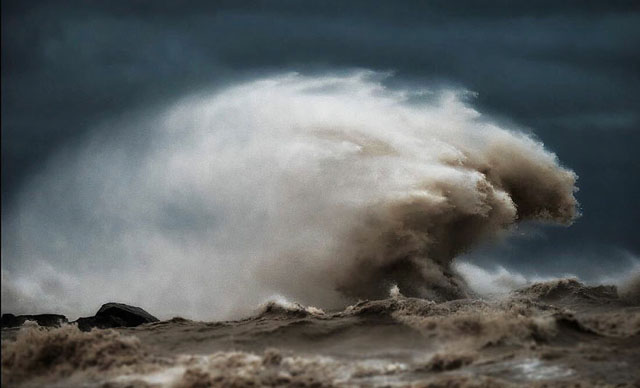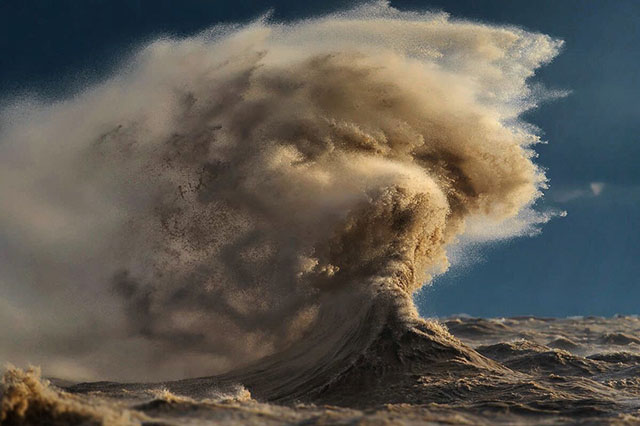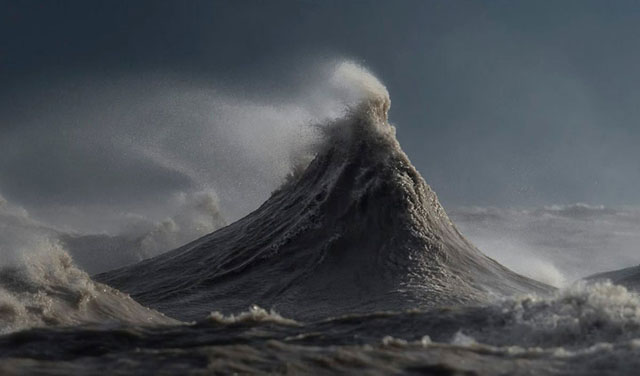 "It is days like these that most people stay away from the lake," Sandford writes at Bored Panda. "It's days like these, when Erie comes alive, showing it's true power. These are the days I can't wait to get to the lake and create images!"
You can find more of Sandford's work on his Instagram page and his website.
Renters in Los Angeles and San Francisco are Paying $1200 a Month for a Bunk Bed in a Shared Space
Would you pay $1200 a month for a bunk bed in a shared space? Renters in Los Angeles and San Francisco are opting for pods in communal home with a desk, locker and personal TV
With the cost of rent continuing to rise, some Americans are taking unusual measures to find a place to sleep.
In Los Angeles and San Francisco, where prices are particularly exorbitant, people have taken to renting bunk beds in communal homes.
PodShare, which provides 10 to 15 co-ed bunkbeds in six locations across California, is hoping to help solve the affordable housing crisis.
The beds can be rented from $35 to $50 a night, which amounts to between $1,050 and $1500 for one month.
It's no secret that housing prices have rapidly spiked over the last decade and incomes have not kept up
One 2018 study published found that only about one-third of millennials currently own homes.
This is fewer than the number of Generation Xers and baby boomers who owned homes when they were the same age.
And a study conducted by Harvard University this year found that one-in-three Americans can't afford to pay rent.
It's unsurprising considering that, in cities such as San Francisco, the average rent for an apartment is about $3,900.
But for $1,200, if you rent with PodShare everyone gets a bed that turns into a desk, individual power outlets, a locker, a shelf and a personal TV.
Each location also provides a communal living room, food such as cereal, toiletries such as toilet paper, laundry machines and WiFi access, reported CNN.
Tenants are known as 'pod-estrians'.
Although the set-up may seem like an adult dormitory or a hostel, the company uses the term 'co-living'.
'PodShare makes life more affordable because there is no security deposit or cost of furnishings and we provide flexible living,' co-founder Elvina Beck told Vice in 2016.
'Pod life is the future for singles which are not looking to settle down, but focus on their startups and experience something new.'
There are no curtains to close off the beds, and the only doors are to the bathroom, reported Time Out Los Angeles.
Although there's no privacy, pod-residents are willing to exchange that for affordability or a reduced travel time to work.
Beck, 34, told CNN that she founded the company in 2012 because she wanted to meet new people and provide housing security to others.
'Maybe they don't have two months' rent to put down or they don't have proof of income,' she said.
'Whether it's from a divorce or their family kicked them out for being gay or because they're in a different country or a different city.'
She told CNN that, when she began PodShare, most residents were between ages 24 and 30. Today, however, most 'tenants' are in their late 20s or early 30s.
Additionally, many of the early residents were young adults who had just moved to a new city. But many new residents are older adults and even those traveling on business.
However, there some rules that people are required to follow. Lights have to be off by 10pm, no guests are allowed and tenants can't have sex.
'You can't invite any friends over,' Beck told CNN. 'Sorry. Just make new ones here.'
Caretaker Ties a Wheelchair-Bound Pensioner to a Tree by The Neck
Shocking footage of a wheelchair-bound pensioner being tied to a tree by the neck by a caretaker has sparked controversy in China.
The caretaker claimed to have no other way but to bind her frail client with a rope because she had to rush back home to deal with family emergency.
Furious onlookers demanded the caretaker free the pensioner immediately. The domestic worker defended her act by calling the incident 'no big deal'.
The video was reportedly shot in Beijing recently, according to local news outlet Btime.com.
Related: Killer Snatched Girl, 11, Suffocated Her Then Dumped Corpse in Sewer
The pensioner appeared extremely distressed throughout the video and could not speak clearly.
One angry male passer-by accused the caretaker: 'How would you feel if your daughter treated you like this?'
He criticised the caretaker and said she should bring the pensioner with her.
The caretaker replied: '[If I had] pushed her back, she would tell [on me].'
Another female bystander pointed out that the pensioner neck had turned red because of the rough treatment.
After being lambasted by eyewitnesses, the caretaker untied the pensioner and pushed her away.
Authority said the clip had been uploaded onto the social media by residents in a neighbourhood called Nanyuan on the outskirts of southern Beijing.
But they had not been able to identify the exact location of the incident or track down the individuals involved.
Police have been alerted of the video and launched an investigation, according to Beijing Evening News.
Comforting Shelter Dogs During Fireworks Is The New Independence Day Tradition
"Calming the Canines," at Maricopa County Animal Care and Control (MCACC), is a new Independence Day tradition.
Last year, over 300 people from the community showed up at the shelter's two locations around Phoenix, Arizona.
It was overwhelming to see how the community responded. It really helped spread our message that MCACC is here to help.
Amy Engel, who attended Calming the Canines last year said that she definitely plans on attending this year, too.
Engel wrote about her experience last year
Some people sang to them, some people read to them, some people just sat there and gave treats! It was so, so awesome because the dogs absolutely love the attention and were focused on the people and not the fireworks going on outside.
MCACC wrote:
Many participants developed lasting relationships with the shelter, returning to provide foster care, adopt a pet or volunteer.
The shelter suggests people to bring blankets to sit on, or folding chairs, and to let the dog or cat approach them to sit calmly and quietly.