VIDEO Breakdown of LeBron James vs. Stephen Curry 2015 NBA Finals Matchup
Four-time MVP against current MVP; elite athlete and one of the greatest players ever against arguably the greatest shooter ever; brute force against skillful ball-handling.
In terms of accolades, James is far more decorated:
| | | |
| --- | --- | --- |
| | Stephen Curry | LeBron James |
| MVPs | 1 | 4 |
| NBA Championships | 0 | 2 |
| All-Star Appearances | 2 | 11 |
| All-NBA Teams | 2 | 11 |
Basketball-Reference.com
And even though Curry won this year's MVP award, James had an equally dominant statistical season.
| | | |
| --- | --- | --- |
| | Stephen Curry | LeBron James |
| PTS | 23.8 | 25.3 |
| AST | 7.7 | 7.4 |
| REB | 4.3 | 6.0 |
| STL | 2.0 | 1.6 |
| BLK | 0.2 | 0.7 |
Basketball-Reference.com
James also has the edge in career head-to-head matchups with Curry, amassing a 5-2 record.
Each player is a star in his own right, but how they manufacture their eye-popping numbers comes in completely different ways. Curry is about finesse, clever movement and elite skill. James, meanwhile, primarily barrels through opponents with the sheer force of his physicality and unparalleled athleticism.
Although James and Curry will both log a ton of minutes in the Finals, they won't necessarily guard each other. It's more likely that Cavs head coach David Blatt will stick his best perimeter defender, Iman Shumpert, on Curry. Conversely, expect Draymond Green and Harrison Barnes to share duties battling James, with some Klay Thompson and Andre Iguodala sprinkled in for good measure.
Golden State Guarding James
Curry's improvement on the defensive end and the Warriors' army of long, athletic wings allow their switch-heavy defense to thrive. Whenever there's any type of confusion fighting through picks or a ball-screen occurs late in the shot clock, the Warriors trade assignments and live with the ensuing matchup.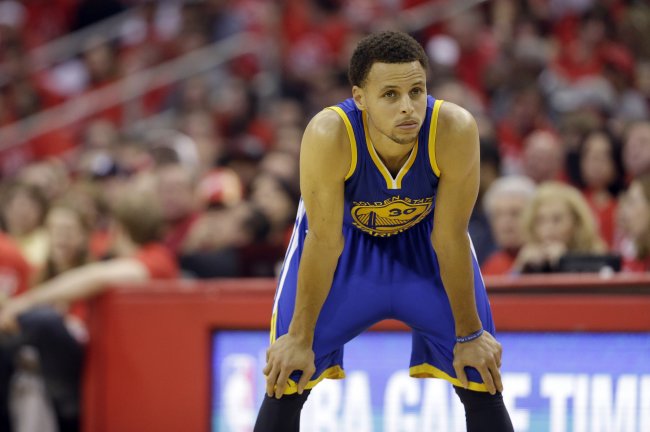 David J. Phillip/Associated Press
When it's Thompson, Iguodala, Shaun Livingston, Leandro Barbosa, Barnes or Green involved in a switch, not much is lost defensively. All of those players possess the necessary lateral quickness and wherewithal to guard perimeter players of all sizes and speeds.
Curry's improvement as a defender is what's allowed Golden State's defense to truly thrive, however. Subsequently, the Warriors' willingness to have him guard some of the league's best players in switch situations helped them boast the league's top-rated defense during the regular season.
Instead of hiding Curry on a weaker offensive player—a tactic Warriors head coach Steve Kerr still uses to start out possessions—Golden State can live with the consequences of any of their defenders guarding any opponent.
Multiple and consecutive switches create a wall on the perimeter by blowing up any screening action.
Take a look at how the Warriors shattered this modified double drag screen—when two players set a ball screen at an angle parallel to the baseline—by the Memphis Grizzlies during the Western Conference Semifinals.
Iguodala shifts his body and sits between the ball-handler, Jeff Green, and the middle of the floor, while Curry waits on the baseline side. No matter which way Green dribbles, he faces a Golden State defender. His only course of action is east or west dribbling, as opposed to north-south.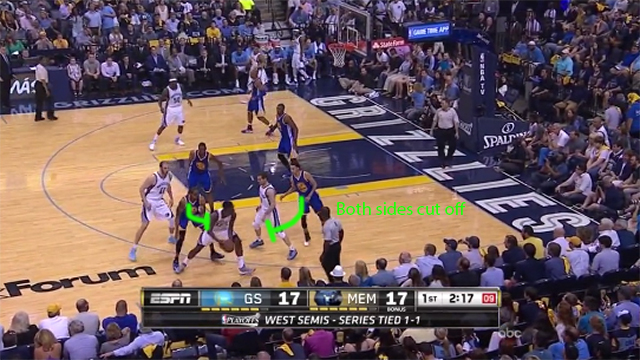 Credit: ESPN
The resulting switch leaves Curry on Green, an apparent mismatch. What opponents fail to realize, however, is that Curry has massively improved his footwork as a defender. Because he cannot handle the physicality of bigger players, he uses his lateral speed and quick hands to bother the ball-handler.
This intense ball pressure far away from the basket negates any size advantage. The only way offensive players can exploit Curry is by walking him down to the block, but that becomes difficult in late-clock situations or when the bigger player has the ball 25 feet from the rim.
On this play against Memphis, Green is forced to settle for a tough fallaway jumper:
In Golden State's two matchups against Cleveland during the regular season, the Warriors adopted their usual defensive scheme to handle the explosive Cavaliers offense. The results were a mixed bag: After easily handling the Cavs in January, with a 112-94 victory in Golden State, Cleveland rebounded with a 110-99 win in February on its home floor.
We can throw out the first game, however, because Cleveland was operating without LeBron.
This is normally an area of dominance for the Warriors because Green has proven to be such a dominant back-to-the-basket defender. In the Western Conference Finals, Golden State had repeated success downsizing their lineup by sliding Green over to the center position to guard the Houston Rockets' Dwight Howard on the block.
But Green can't shut down LeBron. Blatt will repeatedly attack that matchup in the post until Golden State adjusts, and it will be up to Kerr to figure out how he wants to deal with James directing traffic from the post.
That's also why constant switching, especially with Curry, could prove problematic for the Warriors. Cleveland might to look involve Curry and James in off-ball screening action to facilitate a switch. If the ball then lands in LeBron's hands, he'll feast on hurried double-teams and scrambling rotations.
Golden State would have to counter by switching less. Every tactical decision in basketball has a domino effect, and this type of man-to-man coverage leaves Golden State's perimeter wall vulnerable. Instead of detonating every screen with an easy switch, the Warriors would have to work that much harder to prevent screens from freeing Cleveland's wing players.
Cleveland Guarding Curry
No matter how Golden State looks to defend Cleveland, don't expect Curry to be anywhere near James when he has the ball. It's on the other end of the floor that we could see James and Curry squaring off, particularly in the fourth quarter of close games.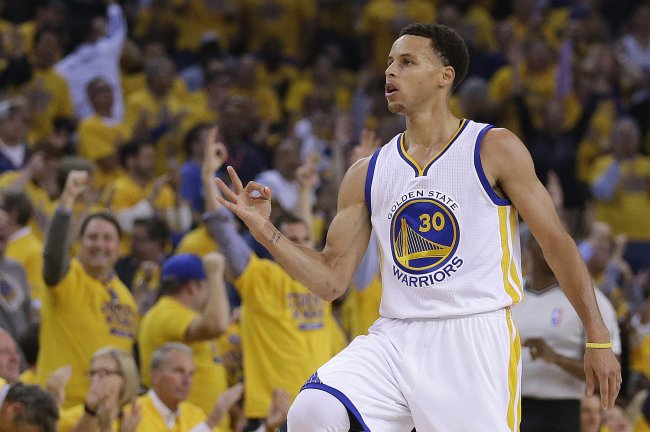 Ben Margot/Associated Press
The offensive burden James shoulders with a sidelined Kevin Love and a hobbled Kyrie Irving is enormous, and Blatt has been smart enough to rest his star player on defense. This isn't to say that LeBron isn't giving any effort defensively; it's just that Blatt is cutting corners where he can to save James' energy.
Against Golden State, that will likely mean he guards Barnes or Iguodala for most of the series.
That's what happened when James did play in the Cavaliers' February victory over the Warriors. With Curry and Thompson dominating touches and serving as the focal points of the offense, players such as Iguodala and Barnes function as floor spacers and secondary drivers.
Barnes gets the ball every once in a while, but it's usually in the flow of the offense through drives off penetration or catch-and-shoot opportunities. The post touches he normally sees will disappear if James guards him, meaning LeBron will have even less pressure to defend on every possession.
And James is a good off-ball defender anyway. He's a great rebounder and shot-blocker from the weak side, and his defensive acumen allows him to roam free without getting burned all that often.
In the fourth quarter, Cleveland's defense begins to switch almost everything, making no effort to chase players across the floor. Particularly with Tristan Thompson playing the 5, Cleveland has the athletes to never find itself in an unfavorable defensive predicament.
The Cavaliers can also change gears by moving LeBron onto the opponent's best perimeter player. We saw that during the only truly close game of the Eastern Conference Finals, when James covered Atlanta Hawks point guard Jeff Teague in the final three minutes of Game 3.
Teague did score in isolation once, but it came off a difficult layup, which LeBron nearly blocked while bumping him off his driving path.
Atlanta tried to engineer a Thompson-Teague isolation by having Thompson's man screen James, and the Cavs obliged by switching. Teague did score twice down the stretch when driving against Thompson, but three other times he missed or took bad shots.
When push came to shove in the game's final moments, James made more of an effort to stay connected to Teague and shut him down himself.
Expect a similar strategy from the Cavs in the Finals. Goading opponents into isolation basketball is a part of their defensive strategy, and Curry cannot help himself when he's being chased by a big.
Blatt's comments earlier this postseason concerning his defensive strategies have echoed this intent. While the switching doesn't eliminate every defensive problem, it's ultimately about the Cavaliers playing the numbers and diminishing opponent efficiency (via Jeff Zillgitt of USA Today):
You're never going to take everything away from anyone, but particularly in the series when you have time to see the team many, many times and you have time to prepare, you do lock in on doing certain things that you feel will help you lower their efficiency. So far, we've been able to do that. The task and the challenge will be to do that going forward.
That's why this series will never consistently feature James and Curry in direct conflict. Shumpert or Irving will harass Curry. Curry will do the same to either of those players. James will tangle with Golden State's versatile stretch 4s and lengthy wings.
Whoever stops the opponent's superstar will win this series. How impactful Curry and James are on offense will be every bit as critical as how relentless the teams' role players are on defense.
Within this matchup of individual NBA giants is a clear-cut example of team-oriented basketball.
Jeron Artest Wishes Kobe Bryant Happy Birthday With Inspirational Instagram Post
Jeron Artest Wishes Kobe Bryant Happy Birthday With Inspirational Instagram Post. This year of 2020, would have been the 42nd birthday of world renowned athlete, the late Kobe Bryant.
Jeron Artest Wishes Kobe Bryant Happy Birthday With Inspirational Instagram Post. This year of 2020, would have been the 42nd birthday of world renowned athlete, the late Kobe Bryant. Along with many other people paying tribute to the Los Angeles Lakers Legend was Jeron Artest, son of Metta World Peace who won a championship in 2010 with Kobe before they both retired separately a few years later.  Jeron Artest, currently a division I college basketball player in the NCAA, dedicated a few words on his instagram profile to go with a time lapse video by #PaintedWorld of a billboard size mural in his idol's memory.
Kobe has influenced practically everyone who loves basketball, whether loved or not, he was a universal force who certainly influenced Jeron as he began organized basketball as a young player. Born in 2001, Jeron was able to witness Kobe flourish at the height of his career playing in the famous purple and gold uniform at the new Staples Center in Downtown L.A. apart of L.A. Live. Jeron first met Kobe in 2006 when his father played with the Sacramento Kings against the Lakers before joining them later in 2009.
Watch the Kobe Bryant Tribute Video on Jeron's instagram post below. View the hashtags #MambaForever, #MambaMentality, #MambaOut for more posts about the Black Mamba a.k.a. Kobe Bryant. Happy Birthday Kobe!
Kobe was aboard a helicopter along with his 13 year old daughter Gianna Gigi Bryant and 7 other people in Calabasas, California. The crash also claimed the lives of Payton Chester, 13; Sarah Chester, 45; Alyssa Altobelli, 14; Keri Altobelli, 46; John Altobelli, 56; Christina Mauser, 38; and the helicopter's pilot, Ara Zobayan, 50. Kobe Bryant had retired in 2016 and was just 41 years old.
NFL Shockingly Decides Not to Suspend Chiefs Star Tyreek Hill Following Child Abuse Investigation
In a shocking twist of events, the NFL announced Friday it would not suspend Chiefs wide receiver Tyreek Hill following a four-month investigation into the wide receiver's family situation.
Hill was under scrutiny for alleged child abuse after an audio recording was leaked to a television station featuring Hill and his fiancee Crystal Espinal discussing aggressive discipline of their child together.
Previously it was reported the Chiefs were "hopeful" that Hill might not be suspended and they were eyeing a max of four games for the wide receiver.
Legal authorities ultimately decided not to charge Hill, although they did say they believe a crime was committed by someone in the matter.
"This office has reviewed all the evidence and has declined to file charges against Tyreek Hill and Crystal Espinal," Johnson County District Attorney Steve Howe said. "We are deeply troubled by the situation. We believe a crime has occurred; however, the evidence in this case doesn't establish who committed a crime."
The NFL issued a lengthy statement on the situation, noting that no one at the league office can "conclude that Mr. Hill violated the Personal Conduct Policy." Additionally, the league said that "information developed in the court proceeding is confidential and has not been shared with us."
In its statement, the league did add that if "further information becomes available" Hill could face a suspension.
Perhaps that could involve a discussion with Espinal? According to a report from Ian Rapoport of NFL Media, the league did not speak with Hill's fiancee during the course of its investigation.
That's surprising — the league cannot compel a non-employee to participate in its investigation, but it's surprising the league would not lean on Hill some to have Espinal speak to the NFL's investigators.
Here is the league's statement in full:
Over the past four months, we have conducted a comprehensive investigation of allegations regarding Kansas City Chiefs wide receiver Tyreek Hill. Throughout this investigation, the NFL's primary concern has been the well-being of the child.
Our understanding is that the child is safe and that the child's ongoing care is being directed and monitored by the Johnson County District Court and the Johnson County Department for Children and Families.
In conducting our investigation, we have taken great care to ensure that we do not interfere with the county's proceedings or compromise the privacy or welfare of the child in any way.
The information developed in the court proceeding is confidential and has not been shared with us, and the court has sealed all law enforcement records. Local law enforcement authorities have publicly advised that the available evidence does not permit them to determine who caused the child's injuries.
Similarly, based on the evidence presently available, the NFL cannot conclude that Mr. Hill violated the Personal Conduct Policy.
Accordingly, he may attend Kansas City's training camp and participate in all club activities. He has been and will continue to be subject to conditions set forth by the District Court, Commissioner Goodell, and the Chiefs, which include clinical evaluation and therapeutic intervention.
If further information becomes available through law enforcement, the pending court proceeding, or other sources, we will promptly consider it and take all appropriate steps at that time.
Obviously the safety and well being of the child is the No. 1 concern here, but Hill is one of the best players in football and a unique talent, and this suspension — or lack thereof — does affect Hill and the Chiefs from a pure football standpoint.
On the field
From a football standpoint, getting Hill back for the entire season is a massive win for Kansas City. The Chiefs lost Kareem Hunt last year after they released the running back in the wake of video, emerging when TMZ uncovered it, showing Hunt assaulting a woman in a hotel hallway.
A few months ago it felt as if Hill could suffer a similar fate as it relates to the Chiefs roster.
Now he's going to play the entire year barring new evidence popping up, and it means the Chiefs will be as close as possible to full speed offensively.
Hill changes how teams game-plan against the Chiefs, and he's a matchup nightmare. Patrick Mahomes' odds of repeating as MVP only increase with this news.
It looked like the Chiefs might enter Week 1 with Sammy Watkins, Demarcus Robinson and 2019 second-round pick Mecole Hardman as their top receivers on the depth chart, assuming Hill was missing due to a suspension. With the news that Hill is back, the Chiefs offense looks loaded again. Watkins is a great second wide receiver option, and with Hill and Travis Kelce on the field as well as Damien Williams in the backfield, Mahomes and KC will be an offensive force to be reckoned with.
The Chiefs were already the favorites to win the AFC West, but a lot of people were getting on board the Chargers bandwagon. Expect that to flip back some. The regression chatter with Mahomes should slow down as well if he gets a full season of Hill.
Throwing for 5,000 passing yards and 50 passing touchdowns is not the most likely scenario, simply because of how difficult it is to actually produce back to back seasons like that, but Hill makes those lofty totals much more achievable.
Fantasy football
Hill is now a first-round pick in fantasy, according to Heath Cummings. Heath pegs Hill as early as the fifth overall pick in a PPR league and a late first-round pick in non PPR leagues. The diminutive wide receiver was going as late as the fourth round in recent drafts, with uncertainty about his future playing a key role in people not wanting to invest in him as a high pick. The prevailing logic had Hill facing somewhere between a four- and six-game suspension, but now that he's in the clear, he should be expected to produce something similar to last year's 1,479-yard season.
Contract talks
Hill and the Chiefs were, by all accounts, getting pretty close on a new mega extension for the wide receiver in the wake of his All-Pro season in 2018. However, according to a report from James Palmer of NFL Media, it is going to be "several weeks, if not months" before the two sides start talking again. Any new deal, per Palmer, would likely "have some very specific language within it" relating to Hill's off-field actions. Any sort of massive deal that the wideout gets — and he'll get one, because ultimately talent wins out in the NFL — would ostensibly have outs for the Chiefs if Hill violates the Personal Conduct Policy.
It would be exceptionally odd of the Chiefs to storm forward with contract talks. They can still utilize the franchise tag on Hill and let things play out with his court situation and with the NFL before agreeing to commit a large degree of financial investment to the wideout.
U.S. Women's Soccer Team Win 2019 World Cup Over the Netherlands in 2-0 Final
The U.S. women's national soccer team proved their dominance at the 2019 Women's World Cup by defeating the Netherlands 2-0 on Sunday in the championship match.
The victory in Lyon, France — capping an unrivaled run and capturing the world's attention — marks both the fourth world title and back-to-back wins for the U.S. women after taking home the trophy in 1991, 1999 and 2015.
The first half of the game went scoreless, with co-captain Megan Rapinoe earning the first goal of the game with a penalty kick at the 61-minute mark. Just before the 69-minute mark, midfielder Rose Lavelle, 24, scored the second goal.
"It's surreal," Rapinoe, 34, said after the win. "I don't know how to feel right now. It's ridiculous."
Following the victory, Rapinoe was awarded the Golden Boot for the most goals scored in the shortest amount of time.
Rapinoe and teammate Alex Morgan both scored six goals and had three assists, but Rapinoe's goals were scored in 394 minutes compared to Morgan's 445 minutes, the BBC reported.
After Sunday's win, the internet exploded with praise for the U.S. Women's National Team.
Former Secretary of State Hillary Clinton congratulated them with a tweet, as well as first lady Melania Trump and tennis star Billie Jean King, who added a call for the women to receive equal pay to their male counterparts.
"It is long past time to pay them what they rightly deserve," King wrote.
Congratulations to the #USWNT on their 4th World Cup win! These athletes have brought more attention, support, & pride to women's sport than perhaps any other team in history. It is long past time to pay them what they rightly deserve. 🇺🇸🏆🏆🏆🏆 #USAvNED #WorldCupfinal #EqualPay

— Billie Jean King (@BillieJeanKing) July 7, 2019
Congratulations to 2019 Women's World Cup Champions @TeamUSA! ⚽️🇺🇸

— Melania Trump (@FLOTUS) July 7, 2019
World champs—again!! To the amazing women of the #USWNT: Thank you for playing like girls. 🇺🇸 pic.twitter.com/GWlLR0nwcX

— Hillary Clinton (@HillaryClinton) July 7, 2019
Yes! Fourth star. Back to back. Congrats to the record breakers on the @USWNT, an incredible team that's always pushing themselves—and the rest of us—to be even better. Love this team. #OneNationOneTeam

— Barack Obama (@BarackObama) July 7, 2019
We will be watching! Go USA! https://t.co/YV0w7cG5KW

— Mia Hamm (@MiaHamm) July 7, 2019
YAASS QUEENS!!#OneNationOneTeam

— Gritty (@GrittyNHL) July 7, 2019
New York City Mayor Bill de Blasio tweeted that a parade would be held on Wednesday for the women's team.
The U.S. women's national team roared onto the field during the group stage of the World Cup, defeating Thailand, 13-0. They continued to trounce their competitors throughout the games in France.
The win comes after a season that was marked by increasing visibility of LGBTQ athletes, controversy, calls for equal pay, and public battles against President Donald Trump.
In June, Rapinoe said in a recorded interview that she would decline to visit the White House if invited by Trump. In a video clip shared on social media, Rapinoe told a reporter, "I'm not going to the f—ing White House."
🇺🇸🇺🇸🇺🇸🇺🇸🇺🇸🇺🇸🇺🇸🇺🇸🇺🇸🇺🇸🇺🇸🇺🇸🇺🇸🇺🇸🇺🇸🇺🇸🇺🇸🇺🇸🇺🇸🇺🇸🇺🇸🇺🇸🇺🇸🇺🇸🇺🇸🇺🇸🇺🇸🇺🇸🇺🇸🇺🇸🇺🇸🇺🇸🇺🇸🇺🇸🇺🇸🇺🇸🇺🇸🇺🇸🇺🇸🇺🇸🇺🇸🇺🇸🇺🇸🇺🇸🇺🇸🇺🇸🇺🇸🇺🇸🇺🇸🇺🇸🇺🇸🇺🇸🇺🇸🇺🇸🇺🇸🇺🇸🇺🇸🇺🇸🇺🇸🇺🇸🇺🇸🇺🇸🇺🇸🇺🇸🇺🇸🇺🇸🇺🇸🇺🇸🇺🇸🇺🇸🇺🇸🇺🇸🇺🇸🇺🇸🇺🇸🇺🇸🇺🇸🇺🇸🇺🇸🇺🇸🇺🇸🇺🇸🇺🇸🇺🇸🇺🇸🇺🇸🇺🇸🇺🇸🇺🇸🇺🇸🇺🇸🇺🇸🇺🇸🇺🇸🇺🇸🇺🇸🇺🇸🇺🇸

MEGAN RAPINOE.

🇺🇸 1 – 0 🇳🇱 | #USAvNED pic.twitter.com/EOOxSmfc5d

— Team USA (@TeamUSA) July 7, 2019
NO. 26

Goal GOALS. #USAvNED pic.twitter.com/Lcjxa0R7nl

— Team USA (@TeamUSA) July 7, 2019
She added that Trump doesn't invite teams he knows will decline or "like he did when the Warriors turned him down, he'll claim they hadn't been invited in the first place."
Trump later responded in a series of tweets, saying he would invite the women's team win or lose, but adding a rebuke for Rapinoe.
"I am a big fan of the American Team, and Women's Soccer, but Megan should WIN first before she TALKS! Finish the job!" Trump wrote.
Rapinoe later accepted a Twitter invitation from Rep. Alexandria Ocasio-Cortez, D-N.Y., to visit the U.S. House of Representatives.
"It may not be the White House, but we'd be happy to welcome @mPinoe & the entire #USWMNT for a tour of the House of Representatives anytime they'd like," Ocasio-Cortez said.
Two hours later, Rapinoe replied to the tweet, accepting the invitation.
"Consider it done @AOC," Rapinoe wrote.
The U.S. women's team not only stirred up drama off the field, but also on it. The high-scoring game against Thailand led some to criticize how they ran up the score and appeared arrogant by celebrating too much.